Curb appeal is very important when trying to sell your home. When your home is well maintained, it gives you a huge upper hand with potential buyers and inspections. It is also something that you can design and do yourself, so you can look at it every day and love it! Here are some fun little projects you can do to improve the look of your home, and if you need, a few great contractors in the area!
Seating Area on Your Porch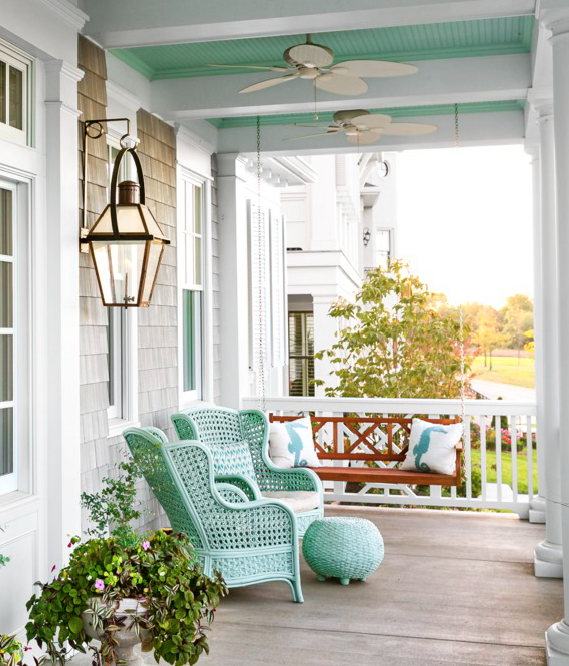 Putting together a simple seating area on your front porch creates a welcoming environment. It is also great for friends and family, or if you just want some alone time.
Trim Overgrown Hedges and Trees
Periodically trimming your trees and bushes makes your home appear more neat and well maintained.
Paint/Stain Your Front Door
Painting or staining your front door can give your house a fresh, new look. You can choose a simple shade or a nice pop of color. Either way, it is a great way to improve your home's curb appeal. Plus it can be a fun little project!
Add Potted Plants/Small Trees
When it comes to adding potted plants, you have so much room for creativity. You can have as many as you like, and can find any color or style to fit your home.
Power Wash Driveway and Walkways
Power washing your driveway and walkways can be a very tedious task, but can make a huge difference. Concrete over time collects all sorts of dirt and will slowly become a darker color. Power washing makes your driveway and walkways good as new.
Paint Window Frames, Door Frames, and/or Shutters
Similar to painting your front door, painting your window frames, door frames, or shutters can give your home an exciting fresh, new look. Check out the 7 Best Companies for Affordable Window Replacements for some great recommendations!
Repaint/Restain Porch
Overtime, the color of wood porches and decks will wear out. Sanding it down and adding a new stain or paint gives a great, fresh look.
Landscape Around Mailbox
Often times, the first thing people will see is your mailbox. Landscaping the area around your mailbox creates a great first impression!