Tennessee is home to many stunning falls, so whether you want to get a nice hike in, dip into a natural swimming hole, or just marvel at the vast beauty of these falls, there is one perfect for you! Keep reading to learn a little bit about 10 of our favorites.
Cummins Falls
Located in Cookeville, Tennessee's 8th largest waterfall is perfect for those with an adventurous side!
The hikes require making your way down a steep hill, and even wading through a creek if you're up for it (see the know before you go for important tips). Once you make it to the falls, there are many spots to view and swim. There is also a small secret natural rock slide that leads into the swimming hole (it is to the far left if you are facing the falls 🤫). Pro tip: Make sure you reserve your permit to the Gorge before you go, they can book up quickly on weekends & holidays.
Hike: 2 main trails, 1 is a moderate 1 mile hike, the other is a difficult 1.5 mile hike
Gorge permits: https://reserve.tnstateparks.com/cummins-falls/permits
image from LiveJournal
Greeter Falls
Chattanooga is home to this 65 ft jaw dropping waterfall!
The best time of the year to visit are the months of March through October. The trail takes you to 3 waterfalls, several bluffs, and a historic site. The falls flow into a natural swimming hole that is perfect for a refreshing dip. Pro Tip: If you are wanting to dip into the swimming hole, the best time to do so is the end of July.
Hike: 1.1 mile loop marked as intermediate
Know before you go.... https://www.alltrails.com/trail/us/tennessee/greeter-falls-loop
image from she the adventurous
Burgess Falls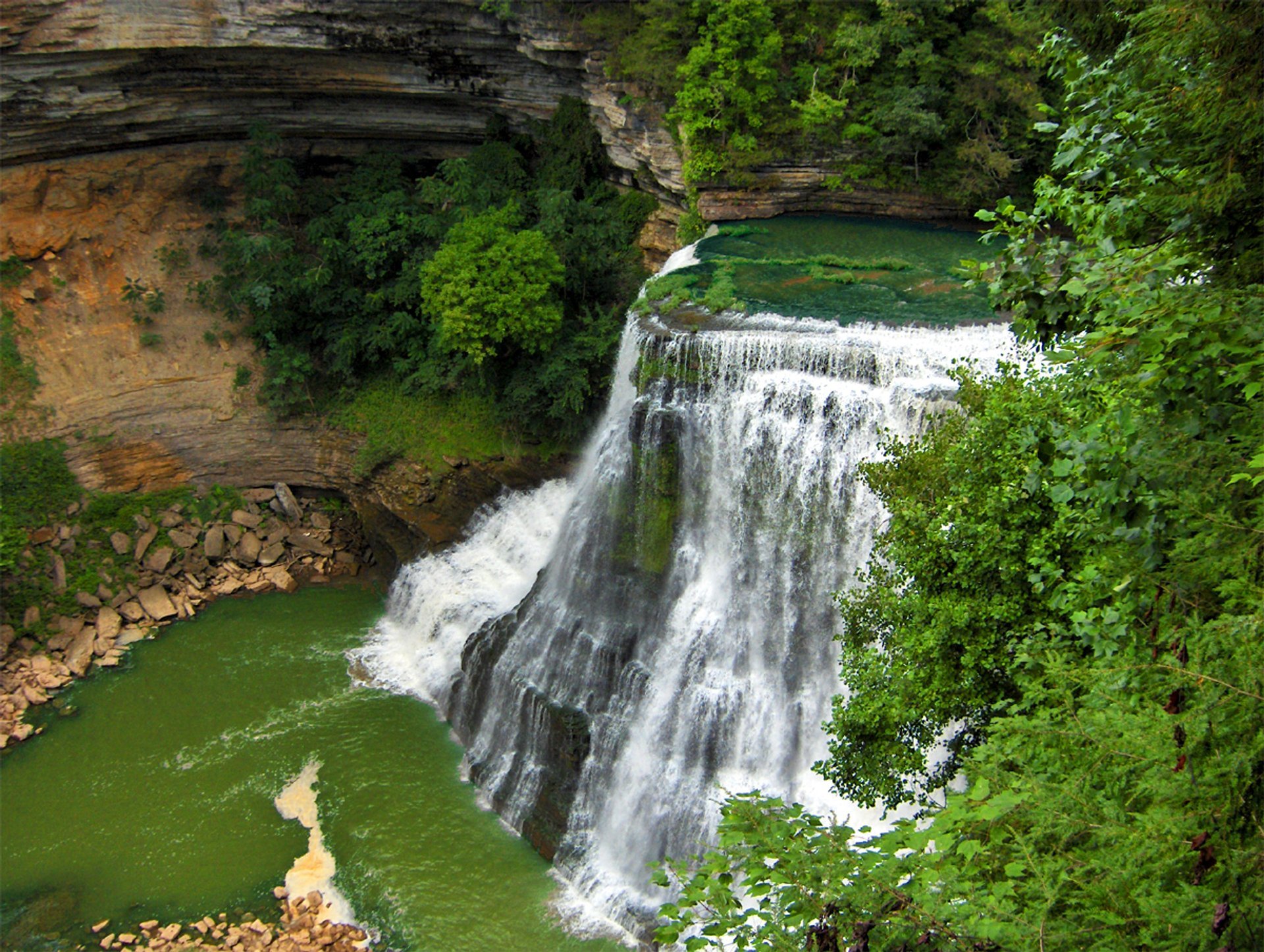 Tennessee's small town of Sparta is home to this 136 ft high cascading waterfall!
This beauty plunges down into a huge limestone canyon. Allow yourself 2.5-3 hours for this round trip hike. Pro tip: Be sure to watch out for weather reports prior to making your way to the falls, as there will be times the area must be closed due to high water.
Hike: 5.4 mile round trip marked as moderate
Know before you go.... https://tnstateparks.com/parks/burgess-falls
image from Rove.me
Bald River Falls
In the small settlement of Tellico Plains, you will find one of the most spectacular falls in Tennessee!
At 90 feet high, this waterfall is dubbed one of the greatest in the region. You can either view it from the comfort of your car while cruising along a scenic route, or you can make the hike along the gorge. Should you choose to make the hike, you will also run into a beautiful, clear swimming hole at the top! Pro tip: If possible, plan to go on a weekday, as it can get very bust on the weekend.
Hike: 5.6 mile moderate hike
Know before you go.... https://www.fs.usda.gov/recarea/cherokee/recarea/?recid=35130
image from Flickr
Ruby Falls
You will find one of Tennessee's most jaw dropping natural wonders within Lookout Mountain, just outside of Chattanooga!
This waterfall is known as the US's highest and deepest underground waterfall accessible to the public. This is also a very known tourist destination, and definitely worth the stop! To get to the falls, you must take a tour that leads you down into a cave. The guides will provide you with lots of cool facts about the cave and the waterfall as you and your group make your way down! Pro tip: Avoid weekends, especially holiday weekends, as tours can book up fast.
Tour Time: 1 hour to 1 hour and 20 minutes
Know before you go.... https://www.rubyfalls.com/special-events/cave-walk-to-ruby-falls
image from Tennessee Tourism
Lovers Leap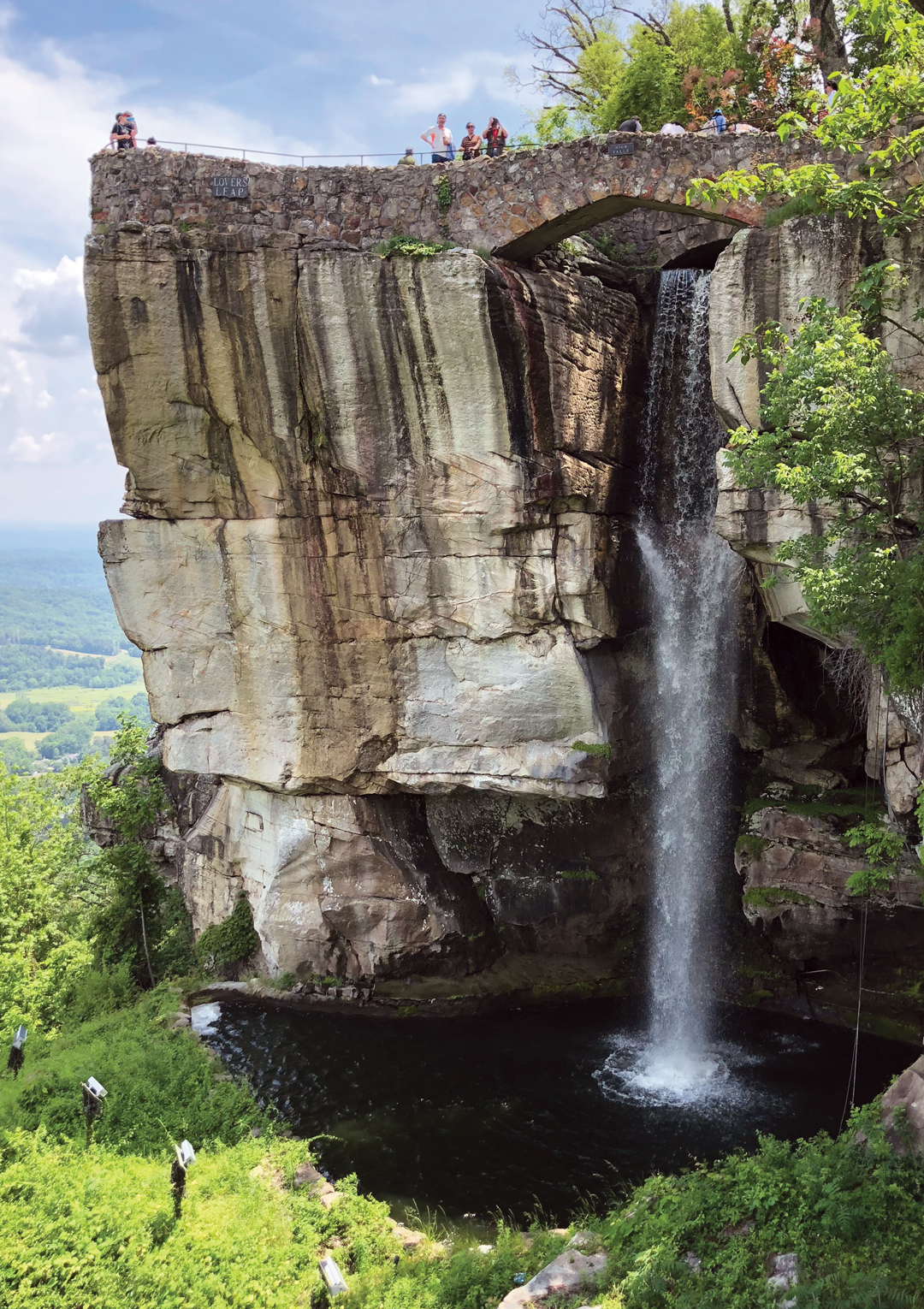 Also found right outside of Chattanooga, this 140 foot waterfall is on the top of Lookout Mountain!
This is also one of the most popular Chattanooga hikes. There is quite the history behind it, which you can learn all about at the site. Standing from the lookout point, you can see seven different states! Pro tip: With Ruby Falls and Lovers Leap both located at Lookout Mountain, as well as countless other activities, you can make it a nice weekend get away to Chattanooga.
Hike: Enchanted Gardens trail, easy and fun!
Know before you go.... https://www.lookoutmountain.com/rock-city
image from Atlanta Magazine
Laurel Falls
Located in the Great Smoky Mountains National Park, this is considered to be one of the most popular hiking destinations in the Smokies!
It is a 2.6 mile round trip to this 80 foot tall waterfall. This hike and falls are great to see year round, but you cannot beat its breathtaking look during the fall! There are also many other hikes and things to see in the area.
Hike: 2.6 miles rated moderate
Know before you go.... https://www.nps.gov/grsm/planyourvisit/laurel-falls.htm
image from smokymountains.com
Fall Creek Falls
Spencer, TN, may be a small town, but it's waterfall is quite the opposite!
At 256 feet, this waterfall claims to be the highest free-falling waterfall in all of Eastern US. This is also a wonderful place to go camping with family and friends. There are several different options of trails, each leading to different views. It is a relatively short hike down to the base of the falls, but a steep one. Also a great place to swim as the waterfall plunges into a huge natural swimming hole. Pro tip: This attraction gets pretty busy in the summer, so a warm spring day may be a better day to visit.
Hike: 2.4 mile loop rated as moderate
Know before you go.... https://tnstateparks.com/parks/fall-creek-falls
image from Tennessee State Parks
Twin Falls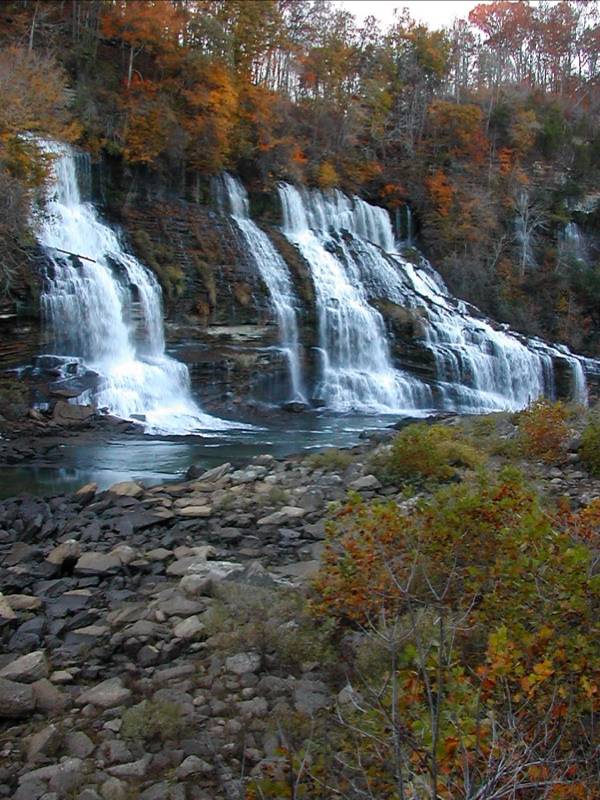 This 80 foot waterfall is found in Rock Island, TN at the Rock Island State Park!
It is one of the best falls to visit in the summer, but is also amazing to view in the fall. The hike is considered to be a fairly easy one, and is just a 1.6 mile round trip. There are many flat areas great for a picnic, so bring some snacks and a blanket! Pro tip: Water can rise quickly so watch the weather and always use caution.
Hike: 1.6 mile round trip rated as easy
Know before you go.... https://tnstateparks.com/parks/rock-island
image from Go Waterfalling
Old Stone Fort State Park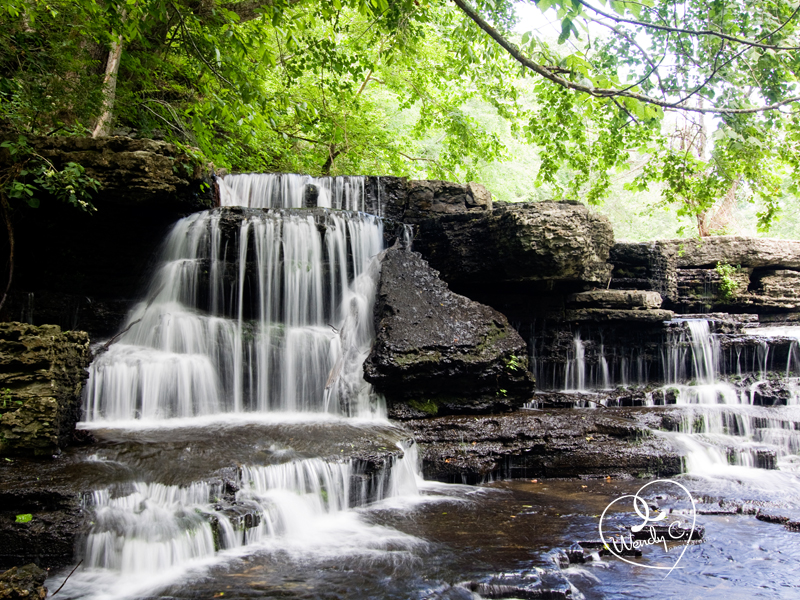 Old Stone Fort is a prehistoric Native American structure found in Coffee County, Tennessee!
There are many different activities and historic sites to see that will blow your mind when you learn about them! The main hiking trail will take you to the Old Stone Fort that was used by Native Americans as a ceremonial gathering place, as well as many other historic sites! Pro tip: Watch out for the 12 different informative panels, that is where you will learn all the cool facts about the sites!
Hike: Several different trails with the longest being a 1.4 mile loop rated easy to moderate.
Know before you go.... https://tnstateparks.com/parks/old-stone-fort
image from State Parks
Ozone Falls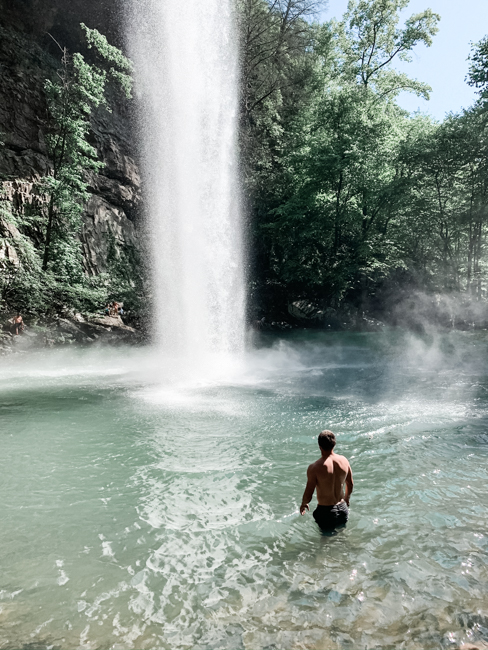 Last, but most certainly not least, is Ozone falls!
This 110 foot waterfall is found in Cumberland County. The falls drop down into a deep, beautiful blue swimming hole. Although it may be tempting, swimming here is recommended for only strong swimmers, as the water can be cold with a strong current. Disney chose this waterfall as a place to film their live-action film "Rudyard Kipling's the Jungle Book" because of its pristine beauty. A fairly tough 3/4 mile hike takes you down to the falls, with a couple of places to stop and view along the way.
Hike: 0.75 mile hike rated as moderate-hard
Know before you go.... https://www.tn.gov/environment/program-areas/na-natural-areas/natural-areas-east-region/east-region-/na-na-ozone-falls.html
image from CS Ginger